COMMERCIAL SOLAR INVESTMENT GUIDE
Why should you use a Consultant for your Commercial Solar Purchase?
When you are considering having a commercial solar installation for your business, there will be many factors to consider. The process itself can be very confusing and too technical. With various solar providers throughout Australia, the task of choosing the most suitable for your needs can be quite daunting. You need to understand that installing solar is not all about the cost; it's much more complicated than that. It's a complicated investment project. It is about the quality of the Panels, the Inverters, and the Customer Service behind the Installer for your project.

Different solar companies will quote you in different ways; there are many elements to quote. Understanding each of these elements can be quite confusing. Commercial Solar quotes are not all about the pricing; there are many different aspects to consider. Our team has listed several of the most critical factors that need to be considered before choosing your solar provider.
Learn about negotiating your electricity contract and starting saving more electricity cost from your business power bill.
Your Business Location
Many people assume that having solar panels installed will require much space; many people blindly believed in this and refrained from investing in solar for this reason. In reality, solar installation requires better arrangements and planning instead of a vast lot of space. It is worth noting that each solar installation must be adjusted to the specific feature of your business's site/premises. Some of the things that need to be addressed are as follows: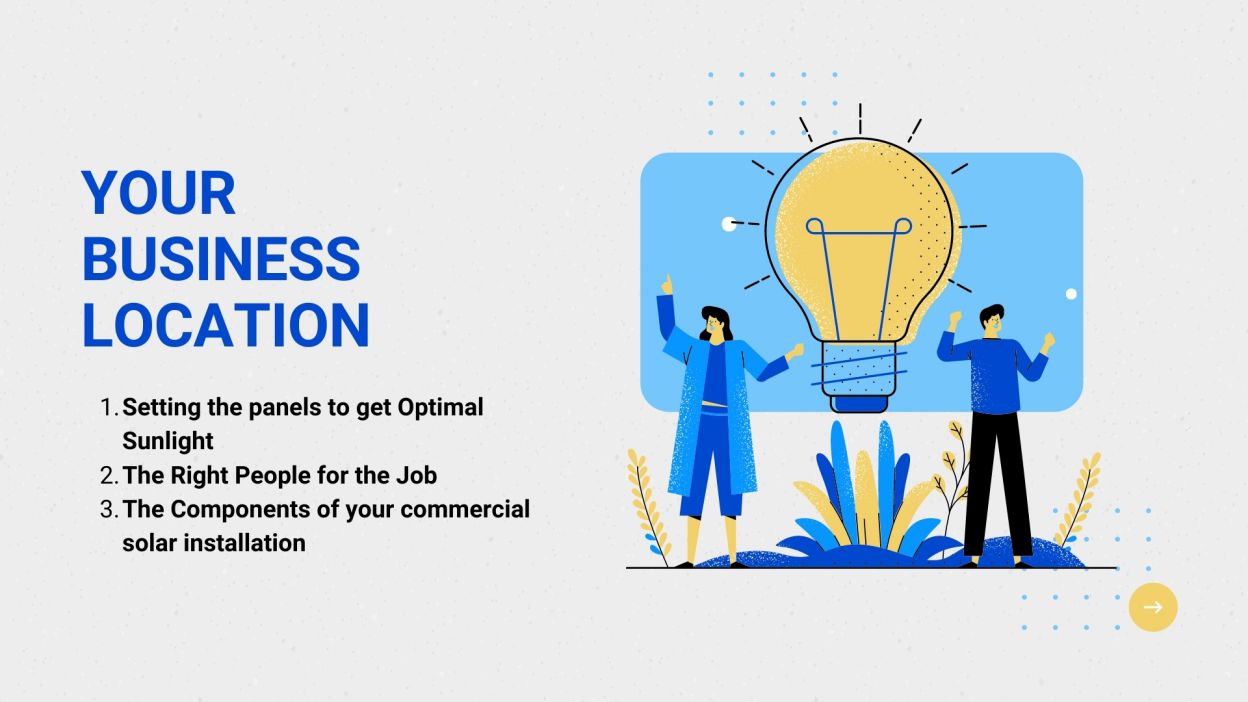 1. Setting the Panels For Optimal Sunlight.
It is essential to have the panels adequately adjusted to get the best electricity output. To ensure you will be able to maximise the energy you can harvest from the sunlight during the day.
2. The Right People for the Job
As mentioned before, commercial solar installation is an investment and to make this investment. You need to have the right people to do the job. You must always consult with a reputable, licensed installer, with certifications to back up their claims. Do not worry because Carbon Energy can help you find the Solar Installer to help you plan and execute it down to the last detail to ensure you get both what you wanted and needed. You can refer to the Clean Energy Council website to see accredited and certified solar companies that will be able to accommodate your investment.
To learn more about reducing your electricity bill and see how simple it is to save your business from excess electricity cost.
3. The Components of your commercial solar installation
It is important to recognise the components of your solar installation. The main components of a solar installation are Solar panels/modules which are the parts used to harvest the solar energy through the sun's light, the Inverters which are the devices that process the solar energy harvested and convert it into usable electricity, and lastly the rack/mounting which is used to hold and support the panels.
Please be advised that many brands provide solar equipment types for you to choose from; it will be both beneficial and useful for your business to consult and adequately plan your design with a professional Energy Consultant to make sure what you get is worth every penny you spend on it.
Be very thorough with choosing the components to avoid any possible problems and check customer support from the Clean Energy Council to help with your maintenance and warranties.
The Type of Solar Installation
Having a solar installation is not about the size and number; it is about the precision of the execution of your planning and the proper preparation to ensure the plan comes to fruition. There are many things to consider, from the quality of the panels, the type of inverters to choose and the type of installation. There are multiple types of solar installations systems that you can choose to suit your needs.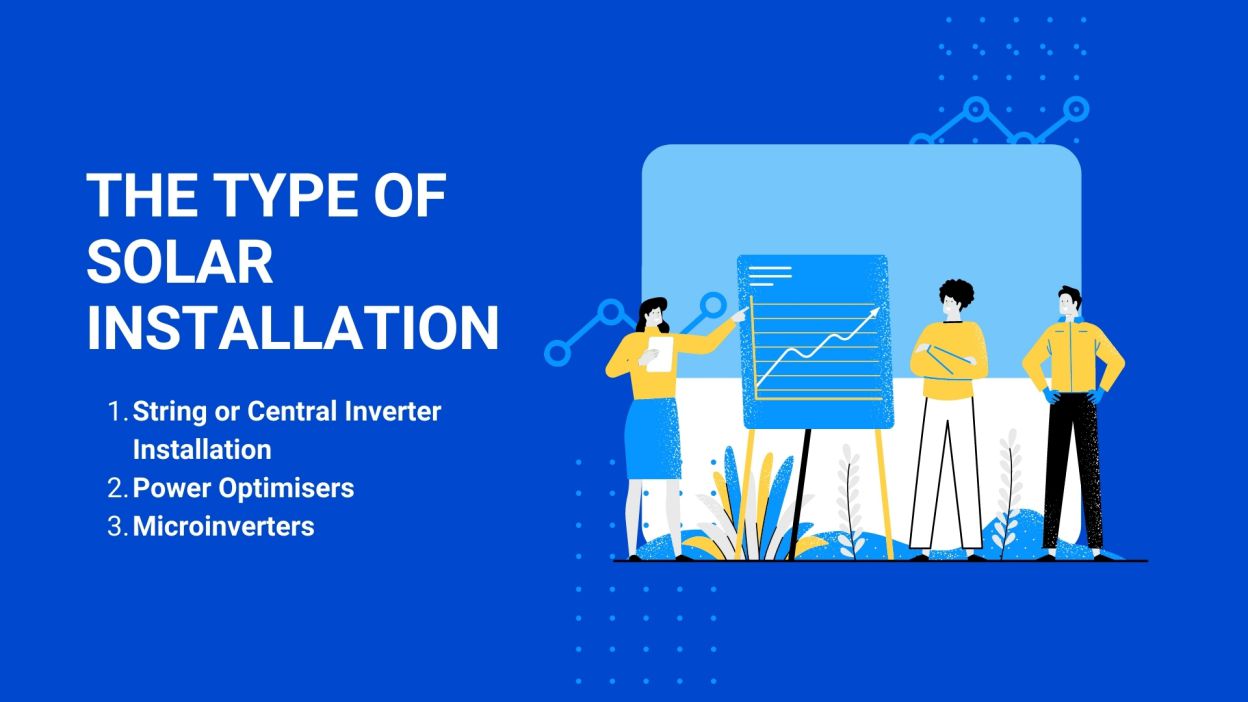 1. String or Central Inverter Installation, which is the most common. This type of installation is set on one centre inverter to do the process of energy conversion. This type of installation is relatively low-cost yet also fragile because the entire installation relies on a singular inverter to process the energy harvested.
2. Power Optimisers, this type of installation is a variant from the string/centre ones. To boost the efficiency of the entire system and improve the productivity of its inverter, it adds several options of Power Optimisers or additional equipment that work together with the main parts. In general, these optimisers will enhance the panels/modules ability to harvest, boost the energy transmissions, and the conversion process to produce more electricity.
3. Microinverters,this type of installation further enhance the efficiency of your solar installation productivity. Unlike the string/centre installation that relies on a single inverter, this installation utilises multiple inverters commonly referred to as microinverters. This enables the entire process of energy harvesting and conversion—this type of installation suits business that requires large quantities of electricity.
A solar installation is a long term investment to ensure you get the best possible result; it is best to consult the experts. Considering the amount of capital invested in solar installation, do not hesitate to consult our trusted energy consultants and choose the best solar installer that will be able to best suit your needs. Carbon Energy offers you a Free Solar Quote to do your feasibility study on your solar investment.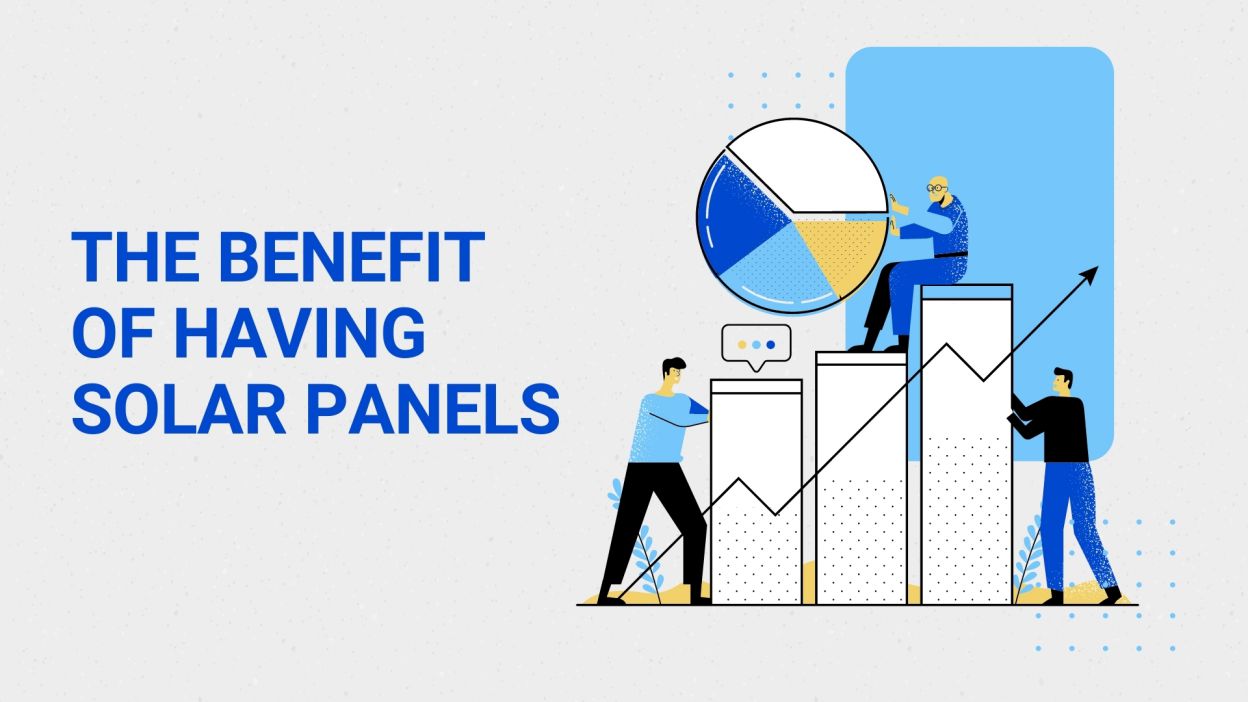 The Benefit Of Having Solar Panels
Having solar panels installed is not a guarantee that your electricity bill will drastically decrease. It's a long term project; once it is properly functioning, you can start to notice the benefit. Having solar installation provides better options for your business operation; it allows you to adjust and develop more ways to utilise your energy plan. You are no longer entirely depending on the electricity produced by the Networks grid. At Carbon Energy, we can negotiate your commercial solar project on your behalf with your electricity retailer on how your energy is billed once you have decided to go ahead with the solar installation.
Furthermore, investing in commercial solar will benefit you in the long-run. The benefits depend on your initial planning. Some companies have profited from the small scale technology certificate (STC) financial incentive/subsidy that reduces the financial burden of their initial investment. Suppose your solar installation produces more than 100 kWh of electricity.
In that case, you will be entitled to the Large Generation Certificate (LGC) instead; this means that you will receive a certain amount of financial incentive as per the amount of electricity you produced per annum based on the rate decided on the Government's policy. After the solar installation works and runs, there are also opportunities where you can export the excess amount of electricity harvested to the Network grid in return for an amount of feed-in-tariff.
You can read more about the renewable energy target scheme to see more information about the benefits.
Carbon Energy's Solar Project Management Approach
Energy consultants or brokers such as Carbon Energy are qualified to help you with all of the hassles and confusing bits. We will present all the crucial matters in a simple spreadsheet Form to understand even the most unqualified person. At Carbon Energy we are learning more day by day as the Solar and Energy Markets are changing and we have to be up to date with all that we do for our customers. That is why all our quotes to our Customers are checked and analysed not once or twice but three times to ensure we are getting the best deal possible for our customers.
Carbon Energy only deals with the Best Qualified and Reliable Solar Companies in Perth Western Australia. For that reason alone, you should consider using a consultant, but more than that we are transparent and honest with our recommendation and here to help with anything we possibly can.
Carbon is our name, Energy is our game, and the game is on when it comes to our customers and their Energy needs. Speak to one of our energy specialists to get a free commercial solar quote on 08 6460 1613. We guarantee you our commercial solar quote will make you very happy or we will give $100 to a charity of your choice.